EmpowHER's vision is to inspire and support women in Aotearoa by providing a safe platform to discuss issues that are difficult to address openly in their communities, and to provide tips and tools to help address and overcome them.
Our team Rani Nalam (Founder), Shveta Shah, Devika Erickson, Neelu Taore and Dr. Ratneesh Suri consists of professional, caring women.
Since the formation of the team in 2020, EmpowHER has successfully run four interactive free Forums whereby we've delivered on our objective to empower women to be the best she can be. Each of our Forums were attended by over 85 women.
In a short span of time, the Forums run by EmpowHER have made a difference in the lives of women in our communities, evident from the feedback we have received from both our speakers as well as attendees, thereby meeting our vision to inspire and empower women. 
NZ Sikh Women's Society Inc
The New Zealand Sikh Women's Association (NSZWA) was founded in 2002 by a group of migrant women with the purpose of providing support to women, children and families within the South East Asian community within South Auckland and Counties Manukau who were experiencing domestic violence. The association came into existence as a community response to an acknowledged need to support women experiencing domestic violence in a new country. Taking into account the changing social environment, NZSWA identified the need for a holistic approach of strengthening and empowering migrant families who experience the dynamics of family violence while resettling into a new society.
NZSWA runs support and advocacy services from a central location in Otahuhu while effectively promoting non-violent lifestyles within its community.
NZSWA is currently part of ISR (Integrated Safety Response System)
NZSWA's mission is to strengthen and empower Families and communities in New Zealand using family violence prevention and empowerment models that address barriers and wellbeing.
We provide:
Ongoing support for individual and families who are and have been victims of family violence
We empower families on an individual and collective spaces.
Home Visits, Legal Process support eg. Courts, MSD, Doctors etc.
Culturally appropriate services
Counselling, Interpretation
We are comprised of multi lingual staff and also liaised with interpretation services if needed.
Support system.
International Students Wellbeing support
Working collaboratively with different community stakeholders
The Family violence rate had spike since COVID-19 hit New Zealand, the families are under various enormous stress which includes financial stress and mental stress.
Financial stress is building up because of loss of jobs, or loss of the income from the business, and the mental stress is based on physically disconnected from the families from their home land and not knowing when they can reunite again.
Ashima Singh
Ashima Singh is a Co- founder, Partner at Legal Associates. She specialises in Property Law, Commercial Law, Wills & Trusts, Family Law and Relationship Property.
Ashima Singh has been awarded as Businesswomen of the Year 2016 at Indian Business Awards. She has completed her B. Com, Master in Information Technology and Bachelor of Laws.. Out of office, Ashima is a wife and a loving mother of two young children.
She conceived of the idea of providing a free legal clinic at her office premises every Saturday from 10:00am to 12:00 pm. The purpose of this was to ensure that Legal Associates was at the forefront of educating the community as to their legal rights, the provision of preliminary legal advice free of cost to prospective clients as well as those people who cannot afford legal representation.
Ashima is passionate about empowering people from migrant communities to provide legal representation to and serve members of their own communities.
Ashima is committed to the empowerment of young women and has proven that it is possible to be a successful entrepreneur in South Auckland as a young woman, young mother and an immigrant.
Currently, Ashima is a Director of Membership at Rotary Club of Papatotetoe. She is also a trustee of Migrant Careers Support Trust, which aims to provide support to migrant professionals, for them to excel in their careers.
Achievements
• Indian Newslink Community Awards: Exceptional Services to Communities 2019
• Indian Business Awards: Supreme Business of the Year 2018
• Indian Business Awards: Business Excellence in Marketing 2018
• Westpac Auckland Business Awards: Finalist for Strategy & Planning 2018
• Westpac Auckland Business Awards: Finalist for People's Choice 2018
• Westpac Auckland Business Awards: Finalist for Employer of the year Choice 2018
• Indian Business Awards: Best Medium Sized Business 2017
• Indian Business Awards: Best Employer of Choice 2017
• Westpac Auckland Business Awards: Finalist for Best Emerging Business 2017
• Indian Business Awards: Businesswomen of the Year 2016.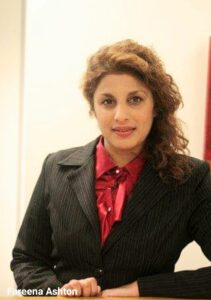 Fareena Ashton
"I raise up my voice, 
not so that I can shout – 
but so that those without a voice can be heard. 
We cannot all succeed, 
when half of us are held back."   (Malala Yousafzai)
As Senior lawyer (ADL), passionate about human rights, I advocate, advise and empower the marginalised in our society – the disabled and minorities.
I have strived to assist female victims of violence and abuse to access justice and to heal, as Director and Principal of Ashton Law.   I commenced this business on my sole account to offer low fees and further discounts to our women. 
As Director of South Auckland Insurance Ltd, we are committed to going the extra mile for our clients of different ethnic backgrounds.
I have had the pleasure of serving and empowering numerous migrants from lower socio- economic backgrounds, suffering from poor health and disabilities, as volunteer for Tamaki Health. 
Achievements: various Recognition awards.
If non violence 
is the Law of our being,
 the future is with women "   (Mahatama Gandhi)
HANSABEN NARAN
I am a 71 yr old Indian Women settled in this land of the long white cloud and through this journey of life; I have become passionate about Women's Empowerment.
I promote this cause through my involvement as executive member of New Zealand Indian Central Association, National Council of Women, Business Professional Women, volunteering for Look Good Feel Better Victim Support and Justice of the Peace.
Over the years, I have managed to balance family life with building a successful career as an Accountant and even finding time hiking the most beautiful famous walks in New Zealand, golfing knitting and reading.
Following Community Awards are recognition for my commitment:
2012              Indian Community & Sports Award
2015              Kiwanis Community Award
2016              NZICA Community Service Award
2018              ANZ Diwali Community Service Award
2019              Kiwi Bank NZ Hero of Year
2019              Indian Newslink Community Award
2021              Ryman Healthcare Senior NZ of the Year
(1/10 Semi Finalist)
Demonstrating Women Empowerment in my life's triumphs and tribulations, it is a life worth understanding for the achievements and the impact I have had on others.
Eva Chen
Eva was born and raised in Taiwan, who came to Aotearoa New Zealand at the age of 17, she is a mother of 4 children, she has been an advocate for social change around providing a fairer and safer space for the migrant families in Aotearoa New Zealand.
She is the Co-founder of the Hawaiki Project for reconnecting the indigenous people with Māori, the Co-founder of the Wellbeing Charitable Trust and has teamed up with several other organisations forming a 'Collective' to work on racism and other social issues facing some of the most disadvantaged people in Auckland.
Eva is also the co-chair of Auckland Council Ethnic Peoples Advisory Panel, a member of Kāpuia, the Ministerial Advisory Group on the Government's Response to the Royal Commission of Inquiry into the terrorist attack on Christchurch mosques, a member of Tauiwi Caucus, the National Plan Against Racism in Ministry of Justice, she works as the community engagement advisor in Census 2023 to build the relationship and trust between the grassroot communities, the hard to reach communities, the disconnected communities with the government agencies. She loves working and connecting with people and being able to support the people.
Jit Kaur
"CARRY A HEART THAT NEVER HATES,
A SMILE THAT NEVER FADES.
A TOUCH THAT NEVER HURTS.
AND ALWAYS CARRY A RELATIONSHIP THAT NEVER BREAKS"
My name is Jit Kaur; born in Jalandhar, India and came to Malaysia when I was one year old. I belong to a big joint family. The person I admired most was my mum and dad and my grandfather from my father's side.
I migrated to New Zealand in 1989 with my daughter and started work with Idea Services (people with Disabilities) as a Community Support Worker in 1990. My Goal and passion are to support the community, and I formed an Association named New Zealand Sikh Women's Association In 2002. I am a founder member and well known in the community for providing services to clients experiencing family violence. I am delighted to receive the following awards:
Semi-finalist by Kiwi Bank as Local Hero of the Year Award 2019
"Punjabi Women of the Year" by The New Zealand Punjabi Multi-Media Trust
Otahuhu -Mangere local board appreciation award.
"AWARD OF HONOR" by SUPREME Sikh Society Takanini.
I take pride in myself achieving this milestone and what I have achieved today with the grace of god and support from my well-wishers.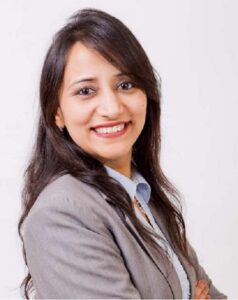 Bhupinder Kaur
I am Bhupinder Kaur Financial advisor with Tulip Financial Services ltd . My goal is to help as many people as possible in achieving financial security for themselves and their families when someone going through tough times if their lives. The one quality that keeps me going in my job is the fact that I am a good listener. I can listen to you patiently, without saying a word. Being an emotional person, I connect with people easily. If I am touched by your story, I can go all out to single-handedly get the job done for you. Perhaps this comes from the fact that I am a parent to a 9-year-old. Parenting has taught me to be patient and responsible, especially for those who depend on me.
Later in life, I lived and worked in India, Dubai and now settled in New Zealand. These experiences have made me easy-going and perhaps more approachable.
Looking forward to hearing your stories and share my stories.
Rachana Dave
Rachana Dave is a Managing Director and Financial Adviser of Dream Your Home Limited T/A 0800RACHNA Mortgages & Insurance with over 16 years of experience in the banking and finance industry. 
Rachana with an entrepreneurial mindset builds a high-performing Financial advising company that supports clients all over NZ. Rachna's vision is to provide quality services and make an effective difference in the community. Her goal is to educate clients on how to create a property portfolio and secure a better financial future.
0800RACHNA is a customer-centric business and core values reflect delivering excellent customer service. Her clients are offered a clear road map on how to get onto the property ladder.
Rachana has won numerous awards including an award from the prime Minister for being the Best Business Woman. She is the First Indian Woman in New Zealand who has achieved the Best Financial Adviser award.
Inspiring Young Professional Women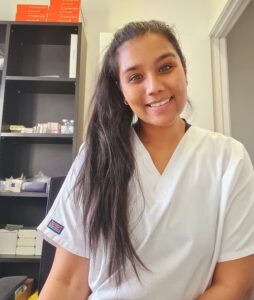 Shania Dean
Asalaamualaikum
My name is Shania and my journey in life so far has been far from smooth, full of hard times, adversities and certainly many struggles. 
But I wouldn't change it for the world as all that made me who I am today which is a strong and independent woman.
I was born in wellington, and spent most of my childhood between fiji and new Zealand. 
 Through some challenging circumstances I was left as a solo mother under 20. At that point  I had a choice, let life's challenges overcome me, or, work hard and give my daughter and I the best life I could.
I always had a passion for helping people, naturally, the nursing career spoke to me. I began studying with a toddler and though it was extremely difficult, I was determined to get through it.
I now work as a senior nurse in various roles which involve me being in primary care and working in the community as a covid vaccinator.
Though the cards I've been dealt life weren't the greatest, and times have been tough. I wouldn't change it for a second. 
Nurain Jannah, CA
Nurain is Founder of Authenticity Aotearoa, a charity that empowers women of colour to express their authentic selves and works to create culturally competent and inclusive workplaces. She also founded Rehendhi, a social enterprise working to innovate leadership coaching by centring collectivist cultures and indigenous frameworks. 
Nurain has held governance roles for New Zealand and international charities. She is a Trustee of Foundation North, a philanthropic investment funder and one of New Zealand's 12 community trusts. Nurain was recently accepted into the AirTree Ventures Explorer program supporting a new generation of angel investors. Nurain currently works as a Manager at Ernst & Young's Turnaround and Restructuring Strategy team. 
Nurain moved to Auckland from the Maldives and grew up a proud Muslim Kiwi. Nurain represented NZ at the 2017 UN Commission on the Status of Women and was recognised as a Business Leader in the 2020 University of Auckland 40 Under 40 Honourees. She was a finalist in the 2022 Women in Governance Awards and the 2021 Women of Influence Awards.
Inspiring Young Women in Community
Swastika Ganguly
A Biomedical Engineer by profession and an artist by passion (MS in Biomedical Engineering from UOA and a business management degree from Career Academy, Auckland) has won multiple awards and several nominations at numerous international film festivals worldwide for her recent short film based on awareness on domestic abuse,"Abhinetri".
Awards:
Tagore International Film Festival, India, under the categories of:
Best Actress (Swastika)
Best Film
Best Women's Film (Swastika)
Cotswold International Film Festival, England, under the category of: Best Actress (Swastika)
Virgin Spring Fest, India under the category of: Best Short Film
Singapore International Film Festival under the category of: Best Film for Women (Swastika)
London International Monthly Film Festival under the category of: Honourable mention Award
Finalists:
Kosice International Art Film Festival, Eastern Europe
Athens International Art Film Festival, Greece
Semi-Finalists:
Sweden Film Awards, Sweden
Best Indie Film Awards
Official Selections:
Golden Short Film Festival, Rome, Italy
Istanbul Film Awards
Eastern Europe Film Festival
Lift Off Sessions
Hollywood Gold Awards
In 2020 her performing Arts organisation (Euphoria Entertainment) has also been awarded the best Lockdown themed short for "Amigo 1.0" at the Shoestring Film Challenge NZ and paved its way into the official selection at FTC Talents Online Film Awards (Bollywood Actor Suniel Shetty's Production House) under the categories of Best Actress (Swastika) and Best Story/ Screenplay along with Istanbul Film Festival, 2020 under the category of best short film shot in mobile phone. Euphoria has also won an award at Istanbul Film Awards for its first short film,"Belladonna", under the category of best actress (Swastika) and "best short film-crime".  Currently, Swastika is hosting a NZ based culinary show, "Zayka Desh Ka" on Apna TV, apart from pursuing her own food delivery entrepreneurship venture. She is simultaneously also working on 3 short films (theme: LGBTQ, romantic thriller and a psychological thriller), all penned down by her.
Ranisha Chand
Ranisha migrated to Aotearoa, New Zealand, from Fiji with her family in 2014 and has spent years giving back to her community. A leader that encourages the empowerment of rangatahi, Ranisha is a youth ambassador for Shakti Youth Network for Change (SYNC), a network of young people dedicated to creating violence-free homes and communities. In the context of youth from migrant and refugee communities, it's about supporting the voices of minority groups to be heard on issues that matter to them, their lives and futures in Aotearoa, New Zealand. Ranisha brought her passion from Auckland and carried on her work in Dunedin in 2020. Ranisha is a mobiliser and has been a catalyst for her peers, inspiring action. She has organised several fundraisers to support Shakti's women's refuge services. She plans to advocate for women's rights and gender equality in her country of birth, Fiji.